Employee ReEngagement Experts Speaker Topics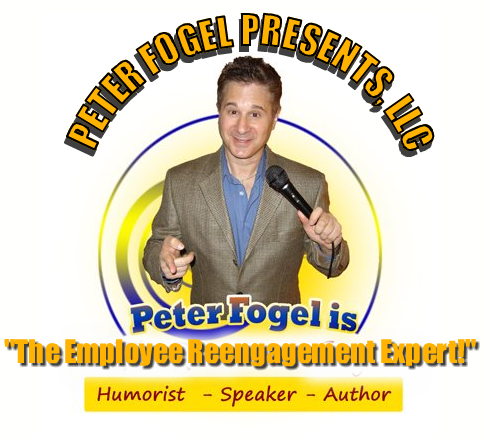 Keynote and Corporate Training Topics topics include:
Sure-Fire Humor Techniques to Create Empathy So You Can Close More Prospects Faster 
Your audience will discover:
Creating Empathy Through Humor So You and Your Prospect Bond Quickly!
Thinking FUNNY So You Can Create Stories That Captivate Your Listener
NLP Tips & Techniques That Get Your Prospect in The Buying Mood NOW!
Story Telling Templates that Help Tell YOUR Story for Optimal Results
Strike While "Your Irony" is HOT: Overcoming Adversity With Laughter (KEYNOTE) (work/life balance)
Your audience will discover:
* How to LAUGH, Put YOUR Obstacles Into Perspective & Then Turn Them Into Golden Opportunities!
* How to Fine Tune Your Humor Radar 24/7
* Four Ways To Effectively Use YOUR Funny Bone– & Have The Time of Your Life Doing It!
* Discover how to laugh at yourself (and if not… how to laugh at others)
* How to Use LAUGHTER to Improve Your Health & Wellbeing at Work and at Home
How To Reinvent Your Career for Total Success!
Your group will experience:
* 4 Proven Ways To Prioritize and Optimally Reinvent Yourself At Your Job
* How to Let Your Fears FUEL You Forward To Reaching Your Goals
* The Five Modes of Learning You Need To Master Any New Skill
* How To Get Out of a SLUMP and Have Clients Clamoring To Work With You!
Effective Team Work Work Through Improvisation
(1/2 day seminar)
You've seen the show, "Whose Line is It Anyway?" with Drew Carey. Well, now "The Humorator" can take those same fun easy-to-learn theatre games and show your staff how to work more cohesively…Get ready for LOTS OF LAUGHS and letting go of the stress as your employees discover
* How to Successfully Partner on Projects
* How to Create Spontaneity in the Workplace
* Techniques to Help you Become a Better Listener
* How to Accept Fear — and Still Move Forward to Reach Your Goal
* How to Get Into the Right Frame of Mind in Order to Achieve Breakthroughs in Thought…
* The Secret to Building Trust with each other
Worlds's Best Kept Copywriting Secrets
You will learn:
* How To Create the BEST Headline For Your Ad, Website, or Direct Mail Piece (Hint: They're Found in the National Enquirer)
* The Secret of Getting Into Your Prospect's Head
* 4 Sure-Fire Guarantees That Will Close The Sale
* 5 Ways To Show Empathy With Your Future Customer
* The "Bar Stool" Technique That Will Make You BOND With Your Reader
In the entertainment and corporate world,  Peter has spoken to companies and associations across the globe and parts of New Jersey.   His thirty year experience in a variety of different speaking venues has allowed him to make audiences of all shapes and sizes laugh and learn… all at the same time!
Not only that, but he's had the good fortune of working along side such veteran celebrities as: Shirley Jones, Ed Asner, Harry Anderson, Lou Rawls, Jon Stewart, Lucie Arnaz, Dennis Miller, and Ray Romano. Not to mention improvising on the same stage with the legendary Robin Williams (and living to tell about it.)
If you have any questions on Peter's topics and how he can customize his presentation or seminar for your needs — then  please don't hesitate to contact him  via e-mail (peterfogelspeaks@yahoo.com) or better yet, call him now for a FREE No-Obligation 15 Minute Comsultation at 561-245-5252 EST.
For one sheets, bios and for more info on room requirements — or to use photos for promotional use, please click on the Meeting Planners tab at the top of the website. Thank you!

Peter Fogel's  Goals is to always make your next event a rousing success without the stress!