Think Reinvention Is Too Hard?
Well, Think Again!
 Let Peter Fogel Show Your How to Reinvent Yourself Into a
Fulfilling Life and New Career!

Hi, I'm Peter "The Reinvention Guy" Fogel copywriter, reinvention expert and author of the book, If Not Now… Then When? Stories and Strategies of People Over 40 Who Have Successfully Reinvented Themselves.
For over 23 years I was a late night television comedian who also shared the stage with Robin Williams, Rosie O'Donnell, Jon Stewart, Denis Leary, and Ray Romano. I worked on such programs as Evening at the Improv, HBO's Comedy Central, and Married With Children. You might've seen me… you just didn't know my name. Well, since then I switched careers and transformed myself into an in-demand advertising copywriter and speaker.
            Make no mistake: If I can reinvent myself… so can you!
If you have a friend, loved one, or you're over 40 (or 391/2) and have a burning desire to change your "status quo" and live the life YOU want then my book is your answer.
Get ready for a fun, inspirational and informative ride, and that's because in "If Not Now… Then When?" you'll discover:
How to know if you should reinvent yourself (the answer my surprise you – page vii )
The # 1 secret you can use to reinvent yourself right now (page 214)
How your past performance is NOT indicative of your future success (page 34)
The secret to finding your "defining moment" that will skyrocket you to new success (page 215)
The number one error people make when switching careers (it's deadly and not what the experts say – page 29 )
Ways to turn your passion into profits (page 119)
Five useful tidbits to use when dealing with a mentor (page 13)
In my critically acclaimed book you'll get not just stories of triumph, but real world tips, strategies and shortcuts that'll put you on the path to a flourishing reinvention. You'll learn from the people that have actually "been there and done it." Folks like:
Valerie Young who went from the "corporate merry-go-round" into her own home-based business. She assists others in finding the passion within their hearts and helps them flourish on their own career paths.
Janette Barber, from writing on The Rosie Show, to losing 126 pounds this woman became a best selling author and weight-loss guru. Now she'll give you tips on how to become an expert within your own field.
Tony Phillips who went from a consulting career to doing what he knew he had to do! Against the negativity, the doubts of his family and friends (and behind their backs) the man took action and became a successful entrepreneur. He'll show you the pitfalls to avoid so you can survive and thrive and get your product out into the market place.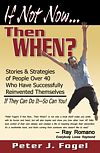 Only $16.95!
My book will make you laugh and learn and open you to the possibilities that are deep within your heart. But don't take my word for it. Just hear what others say about "If Not Now… Then When?"
"Peter Fogel's If Not Now… Then When? is not only a book that'll make you smile with its humor and heart, but will also inspire and show you how other 'over 40' folks took control of their own destiny and created a life of meaning through their reinvention. It's a worthwhile book, and that's coming from someone who doesn't like to read."
~Ray Romano – Everybody Loves Raymond
"I've known Peter since we were kids – And he's always overcome adversity with humor! This book is honest and truthful!"
~Jake Steinfeld – Body by Jake Enterprises LLC

"If you're over 40 – get this book! I don't remember the last time I read one cover to cover in one day. Peter Fogel's comedic background shines through and makes this one of the most enjoyable books I have read in a long, long time. If Not Now…Then When? is inspirational, motivational and most of all, just plain fun to read."
~Dr. Robert Anthony – author of Beyond Positive Thinking

"FUN stories with strong content, humor, and practical advice. You'll also discover how to network with those important people who will make a profound difference in your life and career. And isn't that what it's all about?"
~Jill Lublin, international speaker & best selling author,
Guerrilla Publicity and Networking Magic

"Through this refreshingly warm, witty, and pragmatic book Peter Fogel proves that age is irrelevant. And that past performance is definitely not indicative of your future results. These stories and strategies will show you how others leaped over obstacles, exercised their risk threshold, and shaped their own legacies to live the life they so richly deserve! Let Peter show you the way!"
~Frank McKinney, best belling author,
Make It Big, 49 Secrets For Building a Life of Extreme Success

"Want to be inspired to have the inner strength to create a better life and career for yourself? Read If Not Now … Then When? You'll experience people, just like yourself, who took major steps to reinvent themselves. These real life stories prove that even when things look bleak, persevering to reach your dream can pay off in amazing ways."
~Carol McClelland, Ph.D.,
author of Changing Careers For Dummies

I wish you the best in your reinvention,

Peter "The Reinvention Guy" Fogel  Author, Humorist, Reinvention Expert
PS: Don't forget to sign up for my REINVENT THIS! E-zine. And get the FREE "The Ultimate Reinvention Quiz" E-book.
Put yourself on the path of reinvention. Order TODAY! Because if not now… then when?
Contact Peter at 561-245-5252