How Peter Morphed Into "The Employee ReEngagement Expert!"
Author, Keynote Speaker, Humorist & Seminar Leader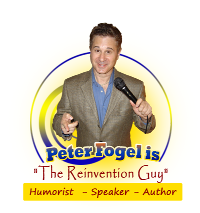 Many people have options in their life. One is to fulfill "the cookie cutter" life their parents have outlined for them and, or, to play it safe.
The other is to really go for it and follow the path that boils deep with inside of them.
So what does a young man who comes from a toxic, dysfunctional family in NY do?
It's a "no brainer"! He simply enters a "stable" profession like stand-up comedy and make people LAUGH!
Which is what Peter Fogel has done for over 25 years.
---
He was  one of America's funniest comedians that you've never heard of… but have seen countless times on television. From comedy clubs, to cruise ships and Las Vegas theaters, he's opened for such stars as Rita Rudner, Jimmy "J.J" Walker and Robert Wuhl (HBO's Arliss).
He's shared the stage or has worked with Jason Bateman, Ed Asner, Shirley Jones, Robin Williams, Harry Anderson, Ray Romano, and Jon Stewart. Peter's also written for such stars as Academy Award nominee Chazz Palminteri (A Bronx Tale, Bullets Over Broadway)
As a studio audience warm-up, he's worked on many programs including Whoopi, Hope and Faith, Married With Children, Men Behaving Badly (with Rob Schneider), Unhappily Ever After and The Howie Mandel Show. He's also hawked products on TV and radio for such sponsors as Mazda, American Express, and Wisk Detergent. (Peter was the Ring Around the Collar Man). His comedy material has been quoted in the ComedyQuote Dictionary (Double Day 1992).
Peter proudly belongs to the Writer's Guild of America and was a member of the famed Warner Bros. Television Writers Comedy Workshop (class of 1999) He's also written for the writing team of Blake and Jackson (Sliders,The Adventures of Lois & Clark) and for Germany's #1 sitcom — their only one — "Rita's World." When not  corporate training,  giving keynote presentations, writing killer copy,  or preaching about career accountability at corporations — Peter is the touring star of one of the longest running one man comedy shows in theater history, "My Mother's Italian, My Father's Jewish & I'm in Therapy!"
As an in demand copywriter/consultant/speaker Peter specializes in delivering high response direct mail, website, and radio copy. His articles have been published in DM News as well as in Inside Direct Mail.
Currently, Peter gives keynote speeches on humor in the workplace, Employee ReEngagement to corporations and associations, as well as teaches entrepreneurs public speaking and comedy writing techniques.
Don't forget to visit his other websites at www.compellingcopynow.com, publicspeaklikeapro.com, www.fogelscorporatecomedy.com.
For speaking engagements Peter can be contacted at peterfogelspeaks@yahoo.com — or call right now at 561-245-5252 or 917-519-2749
Peter Has Worked on the Following Popular Sitcoms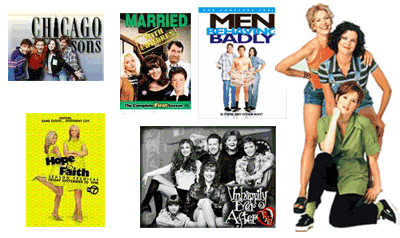 The Employee ReEngagement Expert Has Also Shamelessly Hawked America's Most Popular Products Over the Airwaves.
On television,  this funny man has either worked on, or appeared on over eighteen television shows, including HBO's Comedy Central, Carolines Comedy Hour,  Comic Strip Live, and Married With Children.
During this time Peter boasts that he wrote for Columbia Tri-Star's # 1 International sitcom, " Rita's World" (okay, their only one.)   Through three decades his voice has been heard on numerous commercials for American Express, Mazda, and Zuma.
---
From Las Vegas to Corporate America!
From the sizzling nightclubs of Las Vegas, where he opened for such comedy luminaries as Jimmy "J.J. Walker , Rita Rudner,  and Louis Black… to cruise ships in the Caribbean… Peter has lived a life and taken risks many people have only dreamed about.
But then it happened… as it has so many times to other Americans. Over 40, Peter had a mid-career life crisis and readily admits,
"I was successful, but yet, if you looked at my career it had more peaks and valleys than an EKG graph!"
Feeling burnt out on the gypsy lifestyle of a performer he decided to make a 360 degree drastic change and reinvent himself into an advertising copywriter. Using his background as an actor and writer, Peter discovered he had a knack for persuading people to buy products and fast became an in-demand copywriter for such multi-million dollar companies as Vital Max Vitamins, Renaissance Health, Bio-Centric Health, Gold and Energy Report, and Agora Publishing…
Having been asked by many people as to how he became so successful, so quickly, in a brand new career he had NO background in…  Peter soon realized he had another mission in life!
And that's to help as many people as he can reach true fulfillment through personal growth,  change, reinvention and of course, ReEngaging with their present career so they can find personal fulfillment and create value for their company..
This is when he wrote the book, "If Not Now… Then When" Stories and Strategies of People Over 40 Who Have Successfully Reinvented Themselves" and his most recent best seller, "Reboot Your Career: 27 Ways to Reinvent Yourself in the Workplace (If You Still Have a Job!)
Peter realizes whether you are entrepreneur, small or large business owner … success leaves clues and that's why you need a proven system to help you reach your goals!
A natural and engaging story teller, Peter is living his new dream and is on a journey where he gives motivational key note speeches, along with break out sessions on copywriting, marketing, public speaking… and of course, Humor and Reinvention in The Workplace!
With his no-nonsense approach, Peter  teaches entrepreneurs and corporate employees how to tap into and use all THEIR available skills so as to take care of THEIR business on THEIR terms so they can become the CEO of YOU Inc!
To help people do this quickly and efficiently, Peter drew upon his martial arts experience. Being a second degree black belt in Kenpo Karate and tournament winner, he created his No-Retreat, No Surrender Black Belt Entrepreneurial Mindset — in simpler terms Harnessing the mind set of a Warrior to help you accomplish your goals!